The Building
The center is located on a new property, with a surface area of 250 sq. meters in the area of Kipseli, Aegina, at a distance of only five km from the two main ports of the island, Aegina Town and Souvala. The choice of location was based mainly on avoiding all unnecessary traffic burdens. A small space, with simple décor, but full of warmth, it satisfies the needs of our guests, creating strong personal relations between our permanent patients, our guests, and the management team.
Light
Special emphasis was given to the "light" factor, the reflection, and to the positive impact it gives to our psyche. That is why we chose a building that allowed us to have the height of the ceiling at 2,60 m, with big glass windows and doors on the southeast side, allowing the generous flow of light into the main unit of the center during the whole day.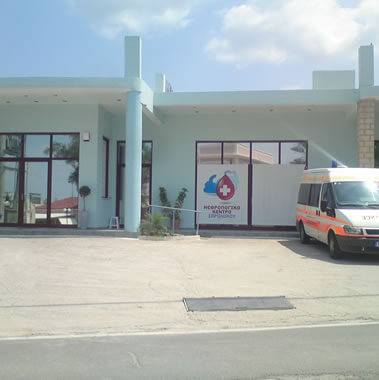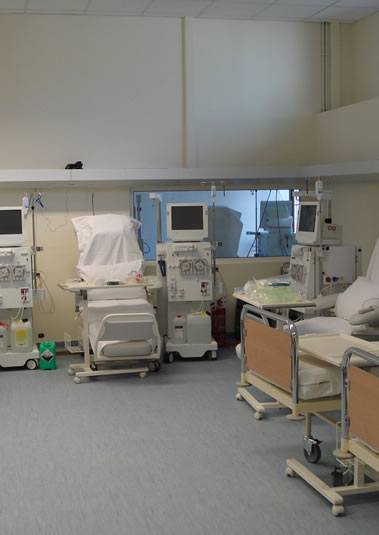 Space Arrangements
With the basic criteria of the most minimal stress factors for the staff of the center, we followed the layout of space organization for the facility, the staff, machinery and other equipment. The advantage of this certain layout is better evaluation and usage of materials and equipment, as well as a high degree of flexibility in terms of using them.
Technical Specifications and Services/Benefits
The center consists of 13 B. Braun dialysis units, with a 5 year warranty.
The system/mechanism for the sterilization of the water, with reverse osmosis, was designed and placed by the company TEMAK, and consists of two individual membrane systems, pumps and softeners, in order to eliminate any possibility of temporary pause or dysfunction of the center.
For continuous electrical feed for the center, we have obtained a 65 kva generator from the company Petros Petropoulos AEBE.
The air-conditioning and ventilation system was designed and placed by the companies ABB Hellas AE-ALTEMCO AE.
Every dialysis place/position is equipped with a T.V., headphones, telephone and internet connection.
During each dialysis session we offer light snacks, coffee, refreshments and fruits.